JS - James Suckling 2021 - 90 Points
Close
China Wine Competition 2021 - Silver Medal
Close
The Prosecco Masters - The Drink Business 2021 - Silver Medal
Close
Decanter WWA 2021 - Bronze Medal - 89 points
Close


Glera 90%, Pinot nero 10%
Pinot nero: one day of maceration and subsequent soft pressing. Glera: soft pressing fermentation at a controlled temperature.
Charmat for 3 months with subsequent fine tuning in the bottle.
To best enhance the aromas and flavour of this sparkling wine, serve it in a large glass at a temperature of 6-7 °C, cooling the bottle beforehand and gradually. It is important not to keep the wine in the fridge for too long.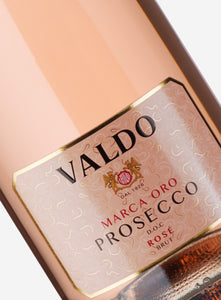 Tasting Notes
Color

Soft, bright pink reminiscent of wild rose petals.

Bouquet

Floral and delicately fruity, with hinys of apple, pear and small red fruits.

Taste

Dry, harmonious, persistent and pleasantly fruity.
Marca Oro Rosé represents the extension of the values ​​and range of Marca Oro. It is a young, bright, smart and trendy sparkling wine, and the result of a careful selection of high-quality grapes. With its clean-cut personality and enticing colour, it is an ideal aperitif.
FOOD PAIRINGS
As an alternative pre-dinner dirnk, it also pairs well with pasta and fish dishes and tuna seabass tartare.